Description of the destination
Known for its mythology and mythical fables, Chalkidiki Peninsula has the shape of the trident of the Hellenic god Poseidon. Three narrow peninsulas attach to a spit of land projecting into the Aegean Sea. Only two of these three peninsulas, Kassandra and Sithonia, are accessible. The third one, Athos, also called "the Holy Mountain", is the location of the autonomous monastic republic Agios Oros.
Pohoda Villas Resort is situated in the small magic village of Fourka , on the Chalkidiki peninsula on the western coast of the Kassandra peninsula in Greece. It is a perfect place for spending peaceful family holidays. Long sandy beaches, bays surrounded by crystal clear sea and hills covered with coniferous trees are the main attraction of the beautiful Chalkidiki peninsula. The inland landscape is hilly and mountainous.
What to do in Chalkidiki
On the Chalkidiki peninsula you can swim in the crystal clear sea, relax, try water sports on the picturesque beaches, run, go cycling or just absorb the typical charming Greek atmosphere in local restaurants. Children are welcome in Chalkidiki too, most beaches in Chalkidiki are highly suitable for children, the water is clean and gradually deepening, long beaches provide enough space for playing.
Sport
Diving
Bubble Adventures Halkidiki was set up in 2013 to introduce families, snorkelers and divers to the beauty of the Aegean Sea and the area of Halkidiki in Greece. Karla has been a professional diver since 2005 and offers introduction scuba dives for beginners, guided dives for licensed divers and the popular cave & tunnel snorkel trip for all ages and abilities. For further information please contact Karla Brooker on +30 6944763894 (WhatsApp & Viber) or via facebook.
Sailing
If you want to admire the sun and breath-taking sunsets, swim in the crystal clear water, you can rent a boat or book a cruise with trained staff. For more information please visit: www.daysailing.gr.
Thermal Spa
Thermal Spa Center Agia Paraskevi located 30 minutes from Fourka is a modern spa with both indoor and outdoor pool overlooking the Aegean Sea. The Spa is beneficial for rheumatic and skin diseases. Behind the building there are stairs descending to a sulphurous spring. For more information please visit: www.halkidikispa.com. We strongly recommend it!
Boat rental
Discover the beauty of Halkidiki and book a boat trip with Discoverib. You can choose from predetermined routes or choose your own route. The price in high season depends on the route chosen – for a 3-hour tour it costs 140 EUR (+ extra charge for petrol). Maximum number of people is 9. More at discoverib.gr
Bicycle rental
To rent a bike at Fourka, please call +69 88 05 06 05. Renting a bike per day costs EUR 12.
Organized bike tours
As Kassandra offers beautiful nature, wooded hills, magnificent views of the sea or picturesque villages, you can join organized trips, whether by bike or on foot. For more information visit the website here https://www.frosch-sportreisen.de/sportreisen/singleclub-fourka
Boat rental, diving and other activities
For renting a boat, booking a daily cruise or diving, please contact Trip Adventure, which offers many options to make your holiday in Halkidiki more pleasant. For more information visit tripadventure.net
Pirate ship – also for kids!

Take a pirate-style cruise by sea in Greece. If you are interested, please contact Theodoros Akritidis at +00306936592626
Motorbikes
You can rent a motorbikes to see all beautiful places in Chalkidiki. It costs around 50 EUR per day (it depends on how type of motorbike you want rent). For more informations please see motokallithea.gr
Trips
Meteora monasteries
In 3.5 hours' drive from Fourka where our resort is situated you can get to Meteora monastery, which is included in the UNESCO Heritage List. It is a unique natural phenomenon. For millions of years the falling water has been washing away the stone until only the hardest rock remained. Today more than 300 m high rock columns and peaks rise from the ground. It is said that hermits came to these inaccessible rocks in the 9th century. Later on, monasteries were erected on these places – in the 16th century 24 monasteries were built. However, since then the monasteries have been gradually closed down and today you can see only six accessible monasteries.
Loutrá
A picturesque fishing village 30 minutes drive originally served as a port for the mountain village Agia Paraskevi. Loutra is translated as spa. It is no wonder, as just a few meters away from the village there is a thermal spa (see Thermal Spa Center Agia Paraskevi),
Animal shelter
There is a privately run animal shelter in Kalandra which works to reduce the stray animal population in the area with a program for sterilising street dogs and cats. All dogs are also microchipped and vaccinated which means that they are ready to be adopted into a home of their own. It is possible to arrange an appointment to visit the shelter to meet the dogs and cats, maybe cuddle some puppies and to join walks with them in the evenings. For further information and to book an appointment please call Julie Tsiakmakis +30 6981434608.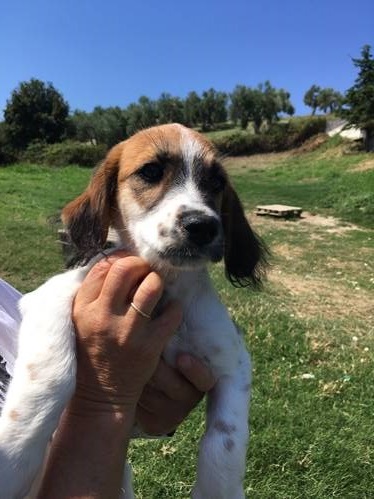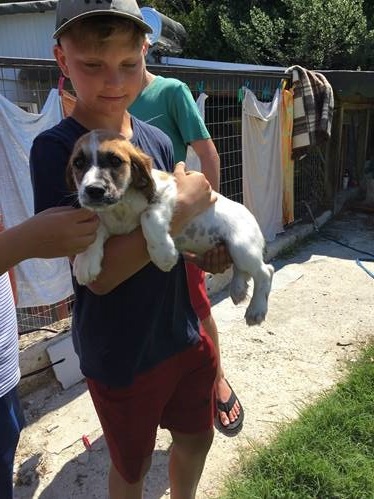 PS: The dog at the photo is called Maximus and he is already in the hands of Mrs. Šárka in the Czech Republic.
Visiting Greek vineyards and wine producers
10 km from Kassandra there is a picturesque vineyard, which is also recommended to visit. For more information see their Facebook. More tips HERE.
Thessaloniki
Visit Thessaloniki, Greece's second largest city. What you can visit in Thessaloniki can be found HERE.
Monastic Republic of Athos
Mysterious and Inaccessible Monastic Republic Agion Oros, considered the most important center of Orthodoxy, has been home to the Athos Peninsula for over a thousand years. Monks only allow male visitors to enter their territory, children and women are forbidden to enter. Medieval rules still in force are so severe that they exclude all female females except for hens and cats. However, if a female person attempts to violate this regulation, she may be imprisoned for up to 10 months. The easternmost tip of Chalkidiki is about 50 kilometers long and 8 to 12
The daily number of visitors to the monastic republic is strictly limited to 120 Greeks and 10 male foreigners and older than 18 years. While the Greeks are allowed to enter at any time, foreigners must obtain a special permit in advance, diamonitirio from Greece, from the Minish State Representation in Thessaloniki – tel .: 0030 2310 252575, fax .: 0030 2310 222424, address Egnatias 109, 54635 Thessaloniki Republic of Thessaloniki – address Leoforos Nikis 57, 546 23 Thessaloniki, tel .: 0030 2310 222 376.
For Children – Aquapark Thessaloniki

Ideal fun for kids. For more information, visit the water park website at waterland.gr
Trips with PrimeTaxi
PrimeTaxi offers you road trips – tours in Halkidiki area (and not only) that will be unforgettable! Select one of the destinations that they recommend, or create your own travel plan,and enjoy comfort and luxury of a pleasant and informative trip. More informations here.
Travel around Chalkidiki with travel agency Afitos
Afitos Travel Agency offers a lot of all-day activities you can take part in. One of these activities is sailing, starting at 10:00 am at Nea Fokea and having fun at 16:30. During the cruise you will stop at several places for swimming or refreshment. The price per person is 59 EUR (includes typical Greek snacks). Another option is Bulli Safari or Jeep Safari, where you can visit the natural beauty and sights of the Greek peninsula, stop in a small olive and olive oil tasting shop for free. The price per person is also a total of 59 EUR (including typical Greek snacks).
The agency also offers rental bikes that will bring you to the place you choose. It is necessary to rent a bike for at least two days. The price for renting a bike (incl. transfer) is 15 EUR/day. If you are interested in the above activities or rent a bike, do not hesitate to visit the website: afitosactivities.com and contact the organizers either by e-mail: info@afitosactivities.com or by calling: +30 6949538226.
Aglios Dimitrios Church
It is a Greek Orthodox church in Greece, which was built in 1858. You can find it on the map here
Byzantine tower
Byzantine tower, which bears the name of st. Paul, you will find on the coast of Nea Fokea village. The tower protruding on a small promontory on the coast dates back to the 15th century and previously served as protection against invasions by foreign nations. If you want to visit this tower, you can find the address here
Lighthouse in Possidi
This lighthouse was built in 1864 and according to the locals it was originally very close to the sea. The colonial-style lighthouse is still in operation and besides has a flower garden around it that adds to its beauty. Once a year at International Lighthouse Day, tourists can enter. You can find it here
Ruins of Ammon Zeus temple in Kalithea
These remains of the temple are an important archaeological site. The temple was discovered in 1969 during excavations for hotel construction. See Google maps
Lake with turtles
This famous turtle lake is located near the town of Polychrono, see Google maps
Small towns in Kassandra
If you are looking for more traffic, head to Kassandra for the following cities:
Fourka, Polichron, Possidi, Nea Fokea, Kallithea, Chanioti, Pefkochori, Afitos, Sani
Small towns in Kassandra
Visit this website visitkassandra.com/halkidiki/kassandria/! Here you will find a variety of tips for trips to the peninsula of Halkidiki.
Nea Skioni
Greek marina with lots of shops, restaurants and a beautiful beach. The marina is a 17-minute drive from Pohoda Villas Resort.
Other tips for trips – what to visit: HERE
Beaches
Fourka Beach
The nearest beach from the villas (350 meters).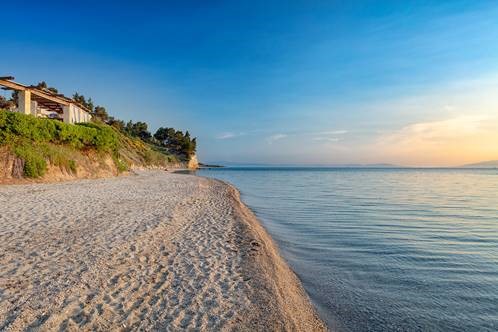 Porto Sani and Sani Beach
A 30-minute drive takes you to Sani's luxury super-modern marina, which also houses various luxury shops and restaurants and bars. This is a complex of luxury hotels and private residences next to the popular beach called Sani Beach. On the beach, you can rent a deck chair for a fee and / or order a drink at the beach bar. Please see Google maps
Koursaros Beach – SUITABLE FOR CHILDREN!

Recommended by our regular client!
If you want to visit a beach other than the one in Fourka, we recommend to go to the beautiful sandy Koursaros Beach in Paliouri (35 minutes by car). Link to Google maps here
Hanoiti beach
Popular tourist resort, crystal water, sandy but with a few pebbles. In summer it is crowded with tourists, but you will find restaurants, bars and water sports. Google maps
Possidi West Beach
Another beach we recommend is Possidi West Beach. Suitable for families with children. Location is here
Beach at Beach Bar Mostar – attractions for children !!

Pleasant beach suitable for children, where you will find inflatable attractions on the sea surface. Link to Google maps here
Tips for other beaches: HERE
Recommended restaurants and local shops
Restaurants
Gozo – Dine & Dance –
WE RECOMMEND!
Unfortunately, for those who knew the POHODA bar and Mr. Mario, this bar was closed in November 2019 due to archaeological research. Instead, in May 2020, Mr. Mario reopened a business in the heart of Fourka. Here you can not only have an exclusive dinner with a sea view for a nice price, but also dance the night away until the morning. More information and photos can be found at facebook.com/gozomeansjoy/ To book, call +30 698 695 9796.
Thallasa Restaurant
Thallasa Restaurant is located by the sea in the village of Fourka, a few minutes from the resort. Here you can enjoy Greek delicacies or seafood such as grilled calamari and much more. Address: 63077 Skála Foúrkas, Piera, Greece. Phone: +30 2374 041864, +30 694 4387777. For more information see tripadvisor.co.uk
Fish tavern Gallini
If you want to enjoy a pleasant evening at the restaurant by the sea, we recommend visiting the Galini Tavern. They serve amazing fresh fish, typical Greek tzatziki or fried zucchini. Address: Epar.Od. Paliouriou-Afitou 15, Moles Kalives 630 85, Greece, phone: 0030 2374042233, at Google Maps
Poseidon Restaurant
The Poseidon restaurant is also a nice place to sample typical local cuisine. Address: Posidi 630 77, Greece, phone: +30 2374 042271, more specifically at Google Maps
Anthoulas restaurant
Another tip for a nice Greek restaurant 25 minutes by car from the resort, located on the other side of the island. The restaurant is located on an old square surrounded by original Greek houses. You dine right in the square under the big tree, where it is still crowded. We recommend booking in advance! For more informations: anthoulasrestaurant.gr.
You can find it on Google maps.
Metoxi Tavern
Taverna Metoxi is a 15-minute drive from the resort in the hills with beautiful evening sunset views. It offers great grilled meat at reasonable prices. More information can be found here
Vasilas Tavern – fish restaurant
Just a 10-minute drive from the villas there is a great restaurant serving the best fresh fish. Address: Vasilas Tavern, Possidi 630 77, +30 2374 043206. See Google maps
Shops
Butcher shop
We recommend to shop meat in a local butcher shop, that offers for example skewers or steaks for grilling already prepared and flavored. All is at favorable prices. The address of the butcher is Themēs, Posidi 630 77, Greece. Open daily from 8:00 to 22:00. Google maps here.
Bakery and cafe – or where to go in the morning for a good breakfast!
(right next to the butcher shop) Address:

PINAKOTI BAKERY,
Kassandra 630 77,
Greece,
Phone: +30 2374 041341.
Open daily from 7 am to 11 pm.
Farmers market
Every Tuesday morning, local farmers' markets are held in Kassandra. A great selection of fresh fruit and vegetables, nuts, olive oils, fresh fish and prawns. A kilo of fresh shrimp comes out at 6-8 euros, a kilo of fish between 6-13 euros.
Google maps Street market link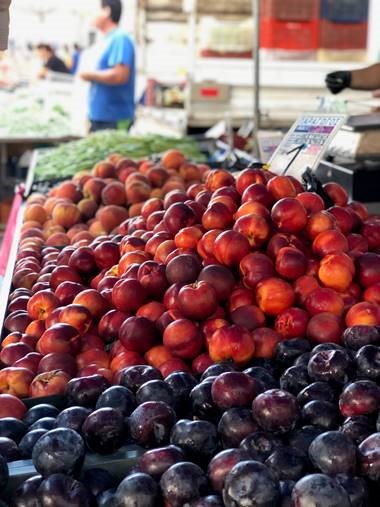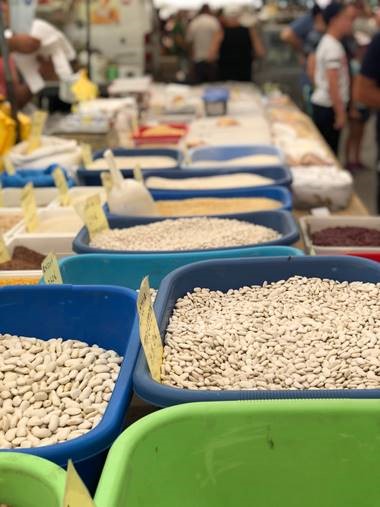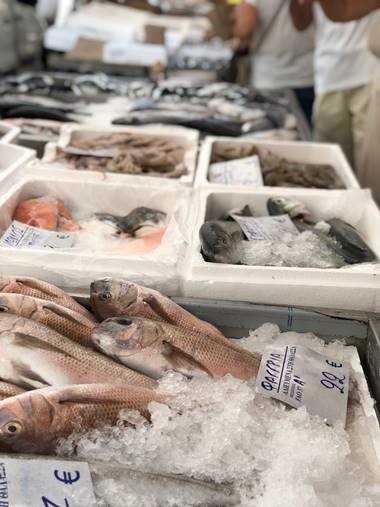 Bakery and sweet shop in Kassandra
– You can also order a cake for children
Visit the bakery in Kassandra, where you can buy fresh Greek pastries from 7 am to 9 pm. If you are looking for something sweet or are planning a birthday party, visit the ice cream parlor with lots of Greek delicacies. You can also order a custom cake in advance. Address see on Google Maps
Bakery at Fourka
This bakery is located next to the shopping center where you buy Masoutis groceries. Here you can buy fresh bread or other pastries in the morning. See Google for address
Sales of olive products
On the Chalkidiki Peninsula you can buy amazing natural beauty products based on local ingredients. We recommend visiting The White Olive shop at Sibiri, Kassandra, Halkidiki, phone .: +30 2374023855, e-mail: info@thewhiteolive.gr. Please visit the website: www.thewhiteolive.gr. Google maps
Fresh fish shop
Less than 6 minutes from the resort in Kassandra you will find a fresh fish shop just opposite the bakery. You can then grill the fish on the grill of each villa. We recommend buying fresh fish in the morning. Poseidṓn, +30 2374 042805. You can find the link here
Pharmacy
The nearest pharmacy is a 7-minute drive from the resort. Please visit Google maps